Oxford Synthesis Summer Conference: 27-28 July 2020
Due to the current COVID-19 pandemic, the OSSC2020 has moved entirely online and will take place as a free-to-attend online conference on 27-28 July 2020. We have extended the deadline for registration.
AN ONLINE FORUM FOR CHEMISTRY GRADUATE STUDENTS
Aimed at students, the OSSC2020 follows on from the success of OSSC2016 and 2018, each attended by over 300 graduate students and young researchers from across the UK and beyond. The OSSC2020 will be a virtual forum for all synthetic chemistry graduate students. Over two days, attendees will meet and listen to six of the most inspirational and influential minds in chemistry tell the stories behind their world-leading research careers, and the journey to where they are today.
The OSSC is a conference for students, aimed at engaging young researchers in discussions of their research careers and the future of chemical synthesis.
An innovative conference programme, featuring a research career-oriented lecture series, rapid-fire student talks and a panel discussion with world-class experts in synthetic chemistry.
We have a fantastic line-up of six internationally renowned scientists delivering talks!
Harry Anderson, University of Oxford, UK
Thomas Carell, LMU, Germany
Sarah Reisman, Caltech, USA
Tobias Ritter, Max-Planck-Institut, Germany
Rebecca Ruck, Merck, USA
Richmond Sarpong, UC Berkeley, USA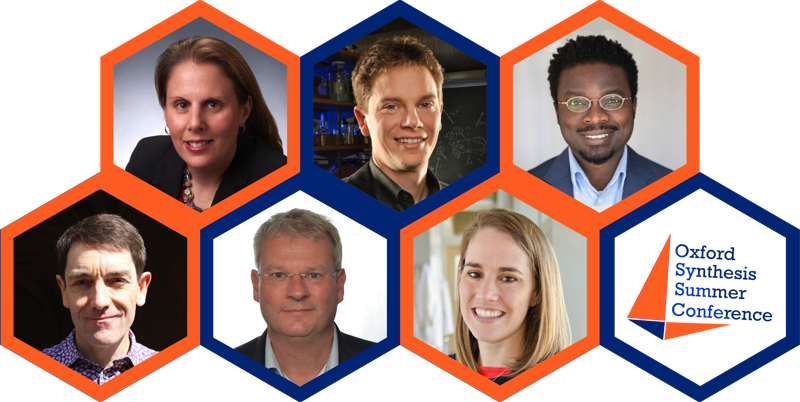 The 3rd Oxford Synthesis Summer Conference is taking place on 27-28th July 2020. Secure your free place now!
Graduate student delegates are encouraged to submit an abstract of their work, which will be selected for rapid-fire oral presentations. Abstract submission has now closed.